Blow molding and the toy industry
Child car walkers, throwing games or rocking animals – the toy industry is a major consumer of plastic products, which are produced by extrusion blow‑molding. The toy industry is booming, making billions in sales and records in the annual profit gain. Plastic takes up an increasingly important role as raw material. Alone in 2012, the production volume of plastic toys was about 27% of the whole german toy industry. The advantages of plastic toys over toys made of wood or other materials are their resistance and the better hygiene. Plastic is easier to clean than other materials in the toy industry. The EU directives for toys require particularly safe materials and workmanship. That is why the toy industry favors the production of plastic toys.
Therefore, the toy industry often uses the extrusion blow molding process, because it enables the fast and cost-effective production of toys. As mold makers Kremann and Esser is the right partner for companies from the toy industry.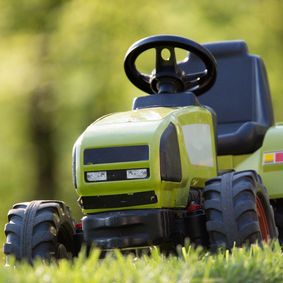 That is why the toy industry relies on Kremann and Esser
The toy industry is exposed to various challenges. For example, the production of the toys needs to be fast, cost effective and requires large quantities. In addition, the goods have to meet safety and quality standards, which are often set extra high concerning children's toys. Traders and consumers also contribute to the challenges in this sector. They always call for new forms and designs, resulting in shorter product life cycles. In addition, when it comes to shapes and colors, the liking differ from country to country. In Asia, for example, toys need to be much more colorful than in Europe. Therefore the toy industry needs to produce their goods fast, inexpensive and in constantly changing designs and forms.
Kremann and Esser is exactly the right company to address when it comes to these challenges. The mold maker is in great demand from customers in the toy industry, whenever products need to be made that have a completely new form or design. Also Kremann and Esser is an expert when it comes to optimizing cycle times. As one of the most technologically advanced supplier of blow molding and tools they offer the highest quality, efficiency and precision. In addition, they can rely on service partners all over the world, and therefore guarantee quick help with maintenance and change requests.