The design department of Kremann and Esser
One of the core expertises of the mold maker Kremann & Esser GmbH & Co. KG is the design and development in every blow molding product area. The experienced and qualified staff constructs precise blow molds and is used to solve even tricky problems.
During the new development and advancement of blow molds, the design department works closely with clients to achieve maximum functionality with minimal use of materials under optimal production conditions.
With the help of Tebis, our staff reads the given data and creates surfaces and volumes that can be used in Catia V5.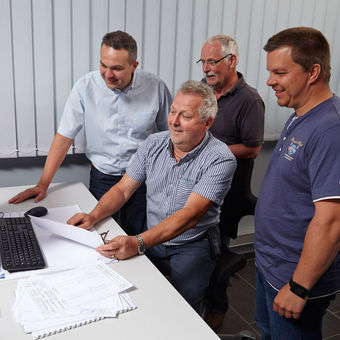 In Catia V5, the design department 3D creates parts and assemblies to work with.
The use of the CAD program is nowadays standard in the design process. Catia V5 allows the precise development of 3D models that can also be easily converted into two-dimensional drawings.
Individual modules such as, "Part Design", "Assembly Design", "Design Structure" and "Generative Shape Design" expand the capabilities of the CAD program and play an important role in metal processing.
Once the models have been designed with CATIA V5, the parts produced are again given to Tebis and prepared therein for the production.